This Hot Lava Cake is so rich and decadent you will hardly believe how simple it is. When I took the first bite I was in awe of how rich and fudgy it is and it tasted just like what you'd get at a restaurant. Our oldest daughter was happily surprised when she saw the caramel drizzle on top of the sifted powdered sugar and once we cut into it and she tasted the first bite, she said, "Mom this is like, the best cake you've ever made!" Well, I've spent so much time in the past making cakes and was amazed at how simple this cake is. All the hours I've put into fluffy, beautiful, perfectly frosted cakes now pale in comparison to this hot mess.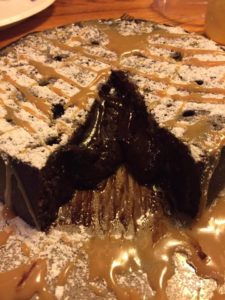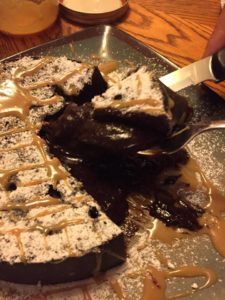 You Will Need:
1/2 cup Butter or Coconut Oil or butter substitute
1 cup Chocolate Chips
1 cup Powdered Sugar (plus more for topping)
2-3 tsp Vanilla Extract
4 eggs
6 Tbsp Flour (all-purpose or gluten-free are great!)
Caramel for the topping (Quickly and Easily make it in Instant Pot using This Recipe)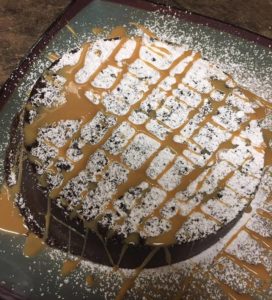 Here's How I Made This:
1. Grease or Spray a 6″x2″ or 6″x3″ Cake Pan. Add 1 cup of water to the Instant Pot, and set the Trivet in place.
2. Put the Butter and Chocolate Chips in a glass (or microwave safe) mixing bowl, and heat until melted (1-3 minutes.)
3. Stir in Powdered Sugar until nicely incorporated, and then add vanilla and eggs and stir again. Add in the Flour and stir again.
4. Pour the batter into a Greased Cake Pan and lower into the Instant Pot using a Sling. (you do not need to cover the cake pan.) Cover and Cook on Manual High for 24 Minutes with 10 Minute Natural Pressure Release, followed by a Quick Release. If you choose to use small ramekins this cake can be done by stacking them in the pressure cooker, using the trivet, and cooking for 8 minutes with 10 minute Natural Pressure Release.
5. Once the Hot Lava Cake is out of the Instant Pot, place a plate on top of the cake pan and flip it over so that the cake is upside down going onto the plate.
6. I use a fine mesh strainer to sift the powdered sugar over the top of the cake, Do Not Skip This Step or your cake will not be as pretty!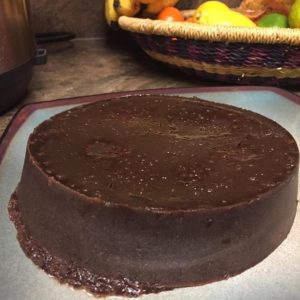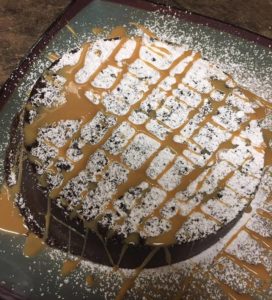 This cake is Amazing by itself, but with Ice Cream on top or on the side, it is over the moon delicious!
Here are the Cake Pans and Ramekins that are great to cook this lava cake in: