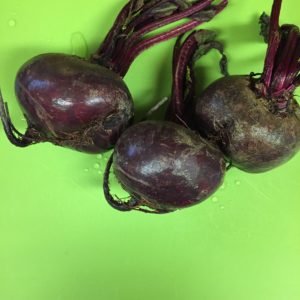 Beets are super healthy! Packed with amazing nutrients, these root vegetables also taste great! I used to boil my beets on low for about an hour and a half, but with the Instant Pot, these babies cook in 15 minutes! The best part is, you can cook them with the skin on because it peels off super easily under cold water.
To make Beets: Start by rinsing off the outside, a little dirt is ok because we will be peeling these under cold water afterward. Cut off the tops, and place inside the Instant Pot on top of a Trivet, with 1.5 cups of water underneath.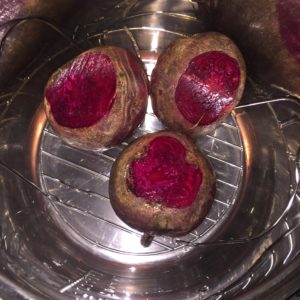 Set manual for 10-15 minutes depending on size. I had really large ones, and 12 minutes wasn't enough, I had to run them for 3 more minutes afterwards. If your beets are medium sized, 12 minutes should be fine, and if you are using smaller farmer's market beets, you may be able to cook them in just 10 minutes. I always cook beets on Manual High pressure, with a Natural Pressure Release afterwards.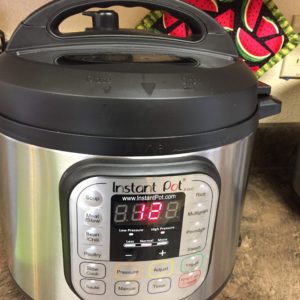 Once they are finished, just rinse them under cold water and use your hands to gently peel off the skin, its SO simple, I love it! I like to cut mine thinly in coin shapes or in half-circles, and then make a simple Beet and Goat Cheese Salad with Walnuts or Pecans and a Balsamic Reduction like this one that my dad bought me for my birthday.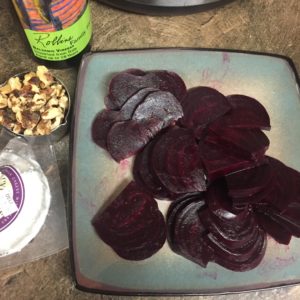 Here is a photo of the sliced beets on a plate. Next I use a fork to scrape the Goat Cheese out of the package, top with walnuts or pecans, and drizzle with dressing. This is also great with lettuce underneath for a fuller salad, and you can also caramelize the nuts, add cranberries, and more.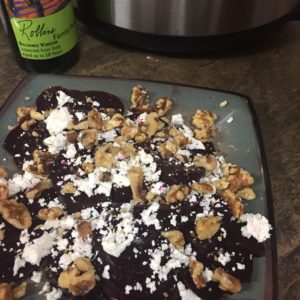 Here is a closeup of this delicious, quick and healthy salad. This also makes a great potluck dish because you can fit lots of beets in the Instant Pot to make a really large version of this.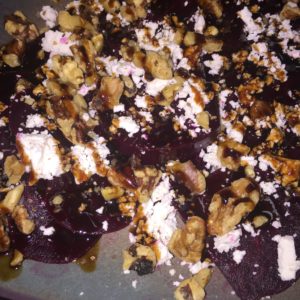 I like to keep peeled beets whole in the fridge and just cut them up as needed. As an afternoon snack this is a really healthy option, and it works great as a mason jar salad. You can also add shredded chicken or bacon bits.
Beets are perfect for any sized Instant Pot or Pressure Cooker. I have this mini on my wishlist to go with my 6-Quart Duo
Instant Pot LUX Mini 3 Qt 6-in-1 Multi- Use Programmable Pressure Cooker, Slow Cooker, Rice Cooker, Sauté, Steamer, and Warmer