This is so good and so easy to make! Mine was partially frozen, so I cooked it for 45 minutes on the manual high setting, and a 15 minute rest afterwards. If using a chicken that is defrosted, I think it could be done in 25-35 minutes on high. This recipe tastes like a rotisserie chicken that you would buy at the grocery store, only better!!
Start by setting the Instant Pot to Saute, add a dash of Olive Oil, and then the veggies. I use 1 chopped onion, several chopped carrots, several stalks of chopped celery, and half of a chopped Red Bell Pepper. While the veggies are cooking, prepare the Chicken by rinsing it off, and put some lemon slices or a whole lemon inside. Sometimes I switch it up and use an Onion or Apple inside.
Next, scoot the veggies to the side and place the Chicken in breast-side down to brown up for a couple minutes. Flip the chicken back over so that the breast is facing up, scooting the veggies back out along the bottom of the pan, and season the top of the Chicken. Seasonings I like to use are Cumin, Garlic, Ginger, Paprika, Lemon Pepper, Italian Herb Mix, Cajun, Rosemary, Thyme, and Basil.
Around the sides of the chicken, add in 1 or 2 cut Lemons, a few big Sprigs of Rosemary, 3 whole peppercorns, a Bay leaf, and a splash of Apple Cider Vinegar. The vinegar helps bring the good stuff out of the bones and into the meat and its broth.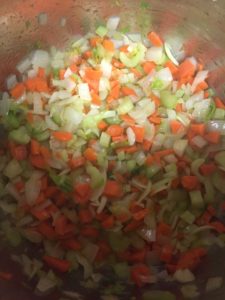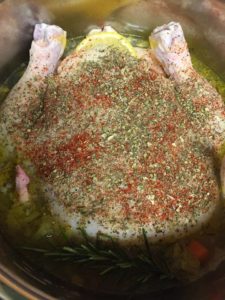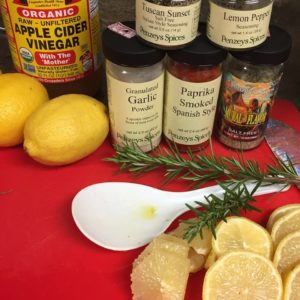 After all of the ingredients are in, add 1 cup of water. You can add more depending on how much broth you want, but you'll need to use at least 1 cup of water and this will make more than 1 cup of broth. Cover and cook on Manual High for at least 25 minutes,  with a Natural Pressure Release. If you're in a hurry and really want to do a QR, you should wait at least 15 minutes to release the pressure so that the meat doesn't toughen up.
Once the chicken is finished, it's ready to serve! My family devoured ours, they said it was they most flavorful one I've ever made. At only $6 for the chicken, I would say at most this dinner cost us $10 with all the veggies and the leftovers paid for themselves!
The leftover bones and bits on the serving plate were just too easy to turn into broth! I put all the leftover pieces back into the instant pot, added more water (probably about the 10 cup line) and another splash of Apple Cider Vinegar to it. I pushed manual and the down button to reduce the cook time to 0, and then down once more so that the cooking time was set for 240 minutes. I went to bed, and when I woke up it was still steaming hot.
After letting it cool, I strained out the bones and bits into a bowl, and the broth into jars for the refrigerator.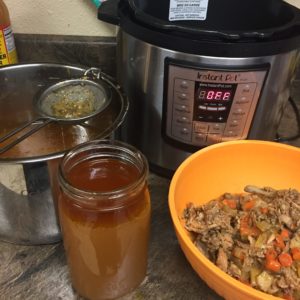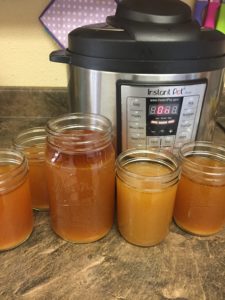 Look at how rich that broth is!! I easily made 3 quarts of broth! Really really good, super rich homemade broth, with basically no effort. I use a lot of broth in place of water when making rice, soups, pasta and even mashed potatoes so this is perfect for the week and saves me about $15 versus buying store bought broth.
I decided to dump the bowl of bits and pieces back into the Instant Pot to make a second batch of broth, and it worked beautifully!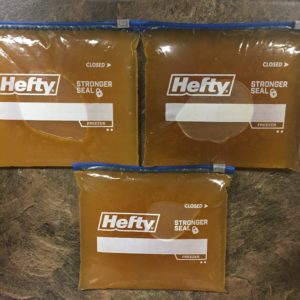 I was able to make another 3 quarts of broth from the same bones and leftover veggies and by just adding water and a splash of Apple Cider Vinegar. At about $5 for a quart of broth at the grocery store, this means that my $6 chicken just produced a dinner and $30 worth of rich nutritious broth. I stored the second 3 quarts of broth in freezer safe bags, I love how I can freeze them flat and stack them to keep my freezer more organized.
For Straining, I used a fine mesh strainer like one of these

and the bowl I used for the bits, bones and veggies is part of this great set of nesting bowls: