This is the perfect balance of rich and decadent dessert with smooth and creamy, smooth and tangy.
For the crust: about 14 graham cracker squares (or use Gluten Free Gingersnaps, butter cookies work great too), 2 Tbsp melted butter and 2 tsp sugar (I used lavender infused sugar.) Blend the crackers and sugar and then add the butter in a food processor. Shape the crust into the bottom of a 6×3 Springform or Pushpan and set in the freezer.
For the filling: I use the food processor again, first adding 2 softened packages of cream cheese, 1/2 cup (lavender) sugar, 2 tsp flour (you can skip if you are doing the Gluten Free version), 1 tsp homemade vanilla extract, 1 tsp of orange or lemon peel zest. Mix well and add 1/4 cup heavy whipping cream or heavy cream (I've also used milk when I was out of cream and it worked fine. If you are making a gluten free version and have skipped flour, you will likely use less cream.) Next you will add in the eggs, 2 room temp eggs & one egg yolk- be very careful not to over-mix the eggs. The eggs will not look fully combined for this step.

Bringing it all together: Bring the pan out of the freezer, and add the filling to the pan with the crust in it and cover with a paper towel and then foil. Lower the pan onto the trivet using a sling, and bake in the pressure cooker on manual high for 40 minutes, with 20 minute natural pressure release.When it comes out, uncover and make sure there's no water on top of it- if so, gently blot with a dry paper towel.
While its baking, I make a Sour Cream Topping using 1/2 cup sour cream and 2 tsp lavender sugar and a small splash of my homemade vanilla extract. Mix that together and top the cheesecake with it before putting it in the fridge overnight, you can also wait and top your cheesecake later and the sour cream layer will be more of a drizzle. Don't skip the sour cream layer, it really brings the flavor up for this recipe! This one has some extra lavender flowers sprinkled on top.
If you don't have a pressure cooker, just cover it with foil only and bake in a hot water bath for about 1.5 hours until the center is almost firm and then remove to cool. Always cut the outer edge before it cools so that the cheesecake is less likely to crack when it cools.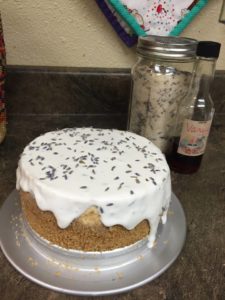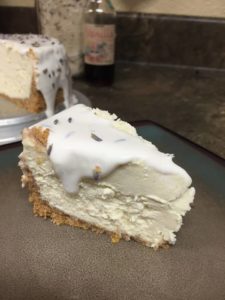 This is the pan that I use:
I also have this pan, I've used both but I think I prefer the security of the Springform, but the ease of cleaning with this Push Pan. Both are great!
If you want to make cheesecake bites, I suggest buying two of these and stacking them. Make sure to line with Parchment!