I love how quickly the Instant Pot melds the flavors together as if I had slow-simmered this amazing meal all day long. The Instant Pot is wonderful at bringing the flavors together, and I love how it does with my favorite comfort food Chicken Soup. This recipe can be made with rice or noodles, I will give you instructions on how to make it either way in the Instant Pot so that you can have the delicious taste of something that cooked all day, but you can make this super quick! When making with noodles, I like to use leftover cooked chicken so that the cook time is only about 6 minutes, otherwise you'll have to cook the chicken, then open it up to add the noodles and then cook it again. I like less steps so if I don't have leftover cooked chicken, I go with Chicken and Rice Soup. I guess I should admit that even when I have leftover cooked chicken I still usually go with Chicken and Rice Soup. The version with uncooked rice and uncooked chicken can be done in about 30 minutes start to finish, and active time working in the kitchen is about 5-10 minutes. I'm going to break the recipe down so that it's fool-proof and and comes out packed with flavor and perfect the first time. I use uncooked rice, raw chicken thighs, chopped veggies, and seasonings. This really comes out amazing, so you'll want to use Organic ingredients to get the maximum benefit out of this. You will need: 1 Onion 5-6 Celery Stalks 5-6 Carrots Water or Broth (you will add the liquid last and fill to the 10 mark on the inner pot.) About a pound of Chicken (I prefer boneless so that I don't have to sift through it when it's finished.) 1 Cup raw uncooked rice (I like to use White Basmati, or a Wild Rice blend, but any kind will work great.) OR 1 pound of noodles (Pictured are Egg Noodles.) Splash of Apple Cider Vinegar OR Lemon Juice Seasonings: Get creative! I like to use 1 Bay Leaf, Ground Ginger, Garlic Powder, Lemon Pepper, Cajun Seasoning, Paprika, Cumin, Thyme, Rosemary, Onion Powder, Italian Herb Blend, and a little Black Pepper. Optional Add-Ins: Half of a Chopped Red Bell Pepper 3 Cloves Minced Garlic 1 Chunk Fresh Ginger OR tsp. Grated Ginger 1 Heaping spoonful of Chicken Soup Base Start by setting the Instant Pot to Saute. Add a little Olive Oil, and add your chopped up veggies.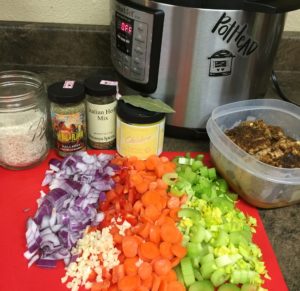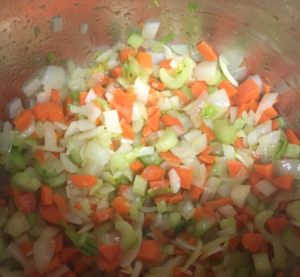 After your veggies have sauteed for a few minutes, add in your raw or cooked chicken, seasonings, and rice. Once all of the ingredients are in the Instant Pot you'll want to top it off with liquid and cover it to cook. I use water because the ingredients combined make a wonderful broth. Fill to the number 10 mark on the 6-quart Instant Pot. This would be 1 gallon or 4-quarts of water. I like my chicken to be shredded, so if using some leftover cooked chicken I cook this on Manual High for 15 minutes.  I cook raw chicken on Manual High for 20-22 minutes. Always do a Natural Pressure Release with soups to avoid splatter.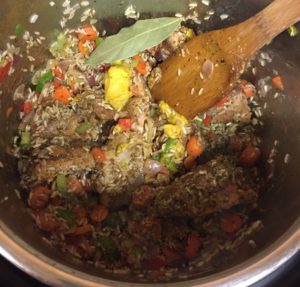 If you're making Chicken Noodle Soup and you're using Cooked Chicken, you can add the noodles and liquid now, remember to stir. Cooked chicken with noodles cooks on Manual High for 6 minutes- you may also read the noodle package and cut that cook time in half, so maybe 7 minutes depending on the noodle type. If you want Chicken Noodle Soup and you're using Raw Chicken, you will need to add the chicken after the veggies and then cook on Manual High for about 12 minutes with a Natural Pressure Release, and then open up the Instant Pot and add the noodles, and then cook on Manual High for about 6 more minutes with another Natural Pressure Release. It requires more effort, but just look at how flavorful it turns out.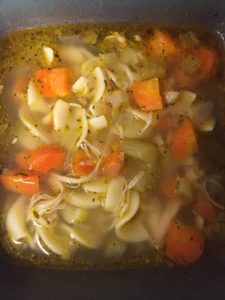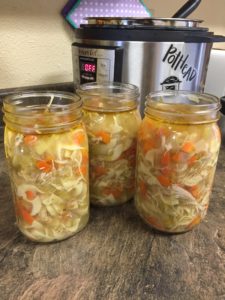 Now let's talk about leftovers. This makes a lot of soup! If you refrigerate the soup, it's good for up to 10 days. If you freeze this soup, it will be good for months. I like to store it in Quart and Pint Mason Jars for the week, and I like to use freezer bags to store leftovers for rainy days and sick days. This is an amazing comfort food and always brings me back to life when I'm feeling really sick. If I'm preparing this while I'm sick I usually add extra lemon, garlic and ginger so that it's really beneficial. Enjoy!