Here is a gem of a recipe from my archives. I'm going to be making this Creme Brulee during the holidays and thought it would be perfect to share with you all today. Creme Brulee is a great holiday recipe to make in the Instant Pot because normally it requires being baked in a bain marie (hot water bath) to ensure that it cooks slowly and evenly, but with the Instant Pot, it comes out perfectly in just 5 minutes, and you can still make large batches, because you can easily stack these ramekins in the pressure cooker. It also takes only 5 ingredients! Heavy Cream, Egg Yolks, Vanilla, Sugar and a pinch of Salt. You will also need a torch to caramelize the sugar on top.
This Creme Brulee is a fantastic addition to your feast, but is simple enough to make any day of the week!
You Will Need:
8 Egg Yolks
2 Cups of Heavy Cream or Heavy Whipping Cream
1-2 Tablespoons of Vanilla Extract or 1-2 Vanilla Beans
1/3 cup of sugar, plus more to sprinkle on top
A pinch or two of Salt
Directions:
Place 1.5 cups of water in the bottom of the Instant Pot or Pressure Cooker, set the trivet in place.
In a large mixing bowl, whisk 8 Egg Yolks. Add 1/3 Cup of Sugar, a pinch or two of Salt, 2 cups of Heavy Cream, and 1-2 Tablespoons of Vanilla Extract (I use 2 Tablespoons) Whisk this all together.
Pour into 6 Ramekins. I use these 4 ounce ones. Cover with aluminum foil and stack them into the Instant Pot on top of the trivet.
Cook on High for 5 minutes with a 10-15 minute Natural Pressure Release.
Bring them carefully out of the Instant Pot or Pressure Cooker and let them cool down on the counter. Remove the foil and replace with plastic wrap.
Refrigerate 2 hours or up to 3 days. When you are ready to serve them, remove the plastic wrap and use a spoon to sprinkle a nice layer of sugar (about 1 teaspoon to tablespoon) over the tops of each ramekin. Use a culinary torch to caramelize the tops and serve immediately.
Below is a picture of how it looks coming out of the pressure cooker, and the second image is how it looks after torching the top to caramelize some sugar. Don't skip this step!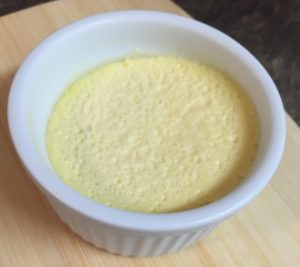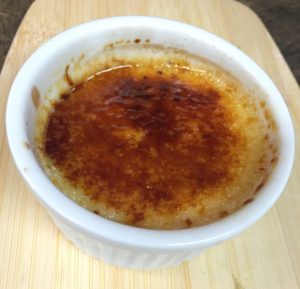 My ramekins were not perfectly straight in the pressure cooker so the creme brulee came out a little bit sideways, however, there was not one complaint! This was such a delicious dessert, everyone loved it and it was a huge hit at the holiday!! Notice in the photo below that the "shell" on top is so strong it can hold a spoon straight up! I absolutely love how it sounds cracking into the creme brulee. Yummy!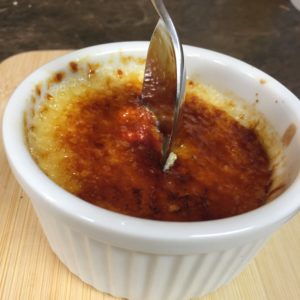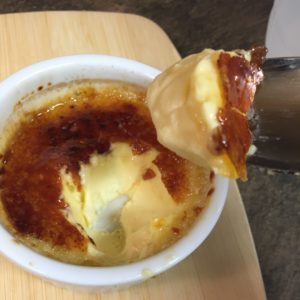 Here is a link to the porcelain ramekins from Amazon. There is an option to buy 6 or 12, I have the 12-pack and just double this recipe when cooking for a group. These are great for making lots of other recipes, such as mini-omelettes, souffles, lava cake, and more. I also use these ramekins when decorating gingerbread houses by putting different candies and sprinkles in each one for my kids to choose from! They are made out of porcelain and will not break or crack under pressure and best of all… they're dishwasher safe!