Something about soup is so revitalizing, especially on a rainy day. My Pressure Cooker Potato Soup cooks in just 6 minutes!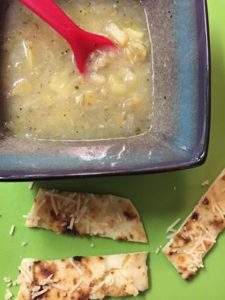 This Potato Soup recipe is super quick and easy and you will just love the flavors! I warmed up some flatbread and added grated Parmesan Cheese to serve on the side and it was perfect for dipping into the soup.
Begin by chopping up 2 yellow or white Onions, 3 green onions if you have them, 4-6 stalks of Celery with the leaves, and some garlic- I like to use 2 or 3 cloves of garlic. If you have shallots, that would be great to add in also.
Next, cut about 7-10 medium potatoes into small cubes or just quarter the potatoes. (You will mash most of them up at the end anyway.)
Set the Instant Pot to Saute mode.
Add a splash of Olive Oil, and then put all of the veggies in.
Next is the seasonings, which are super flexible. I like to use 1 Bay Leaf, Garlic Powder, Salt, Dried Shallots, and Penzy's Fox Point seasoning which contains Salt, Shallots, Chives, Garlic, Onion, and Green Peppercorns. A great thing about using Dried or Dehydrated foods in the Instant Pot, is that it re-hydrates them beautifully!
Saute for 2 or 3 minutes and then add enough water (or broth) to cover all of the veggies by about an inch. This is going to be a big pot of soup, which also freezes wonderfully. Cover and switch to manual mode. Cook on High for 6 minutes, with a few minute rest afterwards, I usually try to wait at least 10, but you can release the steam sooner. Start to finish this recipe can easily be prepared in under an hour.
If you'd like it to be dairy and gluten free, its ready to serve, but you may also choose to top it with some fresh chopped green onion, and maybe even a twist of lemon or lime.
If you want this to be creamy, you can add in 1/2 a cup of heavy cream (milk can substitute fine, but you'll want to let the soup cool a bit so that the milk doesn't scald and separate.)
Ladle the soup into individual bowls and top with shredded cheese, and plain yogurt or sour cream. I also like to top it with more fresh sliced green onion, and a twist of fresh lemon or lime. If you're feeling adventurous, adding cooked bacon bits to it can really bring a wow-factor and tastes great!