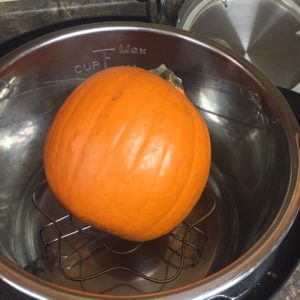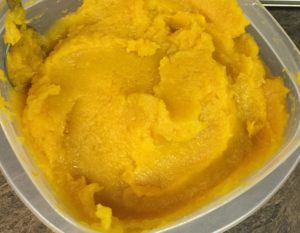 Roasting a whole sugar pie pumpkin is so easy and so worth it! The easiest way to cook your pumpkin will be to put it in whole without poking any holes. I use 1 or 1.5 cups of water on the bottom when cooking. If you use 1.5 cups water, it will take longer to come to pressure. I've cooked Whole Pumpkin with a trivet and without, so if it fits with the trivet, great! If not, no problem it will be just fine.
The cooking time will depend on the size of the pumpkin. This also goes for cooking Acorn Squash, Butternut Squash, Spaghetti Squash, etc. I cooked the small one in the picture above on Manual High for 7 minutes with a 15 minute Natural Pressure Release. After that, bring it out and let it cool for about 10 minutes. The easiest way to get the seeds out is to cut the pumpkin in half and scoop out the seeds with a spoon. If you're cooking a pumpkin, don't forget to save your seeds if you want to toast them up later. It was so easy to puree I didn't even use an immersion blender, I used a fork! Pumpkin cupcakes coming soon..
If you're using a Larger Pumpkin or Squash that only fits without the trivet, you'll want to cook it for 12-17 minutes. The Natural Pressure Release at the end allows time to ensure that it's cooked all the way through, so you will want to do a full NPR. Sometimes that may only take around 9 minutes.
You can also cook Squash the same way. I've made Butternut Squash in 12 minutes. Spaghetti Squash and Acorn Squash also whole, on a trivet, Manual for 7 mins with a 20 min NPR. The Acorn Squash was Delicious! When I got it out of the Instant Pot, I cooled it for a few minutes and then cut it in half, removed seeds and then added in a pat of butter to melt and sprinkled brown sugar over it. It was like dessert!
The leftovers can be frozen and you can even freeze them into cubes that melt wonderfully into Mac N Cheese. The cubes also make a great soup base, baby food, and you can use the puree in so many recipes from pumpkin milkshakes or muffins, to peanut butter and pumpkin dog treats. My favorite is dessert, so I'd say my favorite way to use pumpkin is putting it in this Pumpkin Caramel Cheesecake.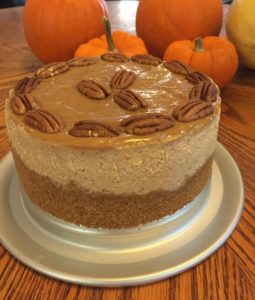 These Freezer Trays make perfect cubes and are very sturdy:
I like to store my cubes in a Freezer Safe Containers like these:
These are wonderful Baby Food Pouches:
This is my favorite Cheesecake Pan:
I love using these Cookie Cutters for my Dog Treats:
If you do want to use an immersion blender, this Cuisinart brand blender is my favorite: