Amazing lunch alert! This is super easy thanks to the magical Instant Pot! These noodles are far from lacking flavor and are actually Gluten Free, Vegan and Vegetarian! I recommend that you put the rice noodles in a big bowl of hot water to soak while you chop the ingredients up. This will help remove some of the extra starch from the noodles and will soften them up for the recipe without them turning to mush. Do not skip this step or this recipe will not work! I use a large mixing bowl and put a glass measuring cup over the noodles to weigh them down so that they don't float. This ensures that all of the noodles (and their edges) will be nice and soft when you're ready to add them in.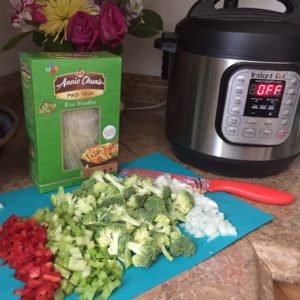 The only ingredients not shown in the picture are a splash of Olive Oil and some teriyaki sauce to finish this up with.
I use half an Onion, 4 stalks of Celery with the greens, 1 Broccoli crown, and half of a Red Bell Pepper. You can add more veggies or substitute other veggies including Garlic, Green Beans, Bean Sprouts, Green Onions, and more. Get creative!
Switch the Instant Pot to Sauté and cook the veggies with a splash of Olive Oil for about 5 minutes, stirring constantly.
Then add about a half cup of water to steam/sauté the broccoli and veggies so that they can become a nice and tender. After about 5 more minutes, when the broccoli looks ready, add a few glugs of teriyaki sauce and stir.
Check the noodles, they should be tender after soaking for about 15-20 minutes in the bowl of hot water. Strain off most all the liquid and drop the noodles into the Instant Pot. Give it a nice stir and it's ready to serve! You can top with more teriyaki sauce to your liking. I like to use Soy Vey's Veri Veri Teriyaki, but any sauce will work! I have a friend who likes to use Tahini and Soy Sauce with a little bit of Maple Syrup!
This also makes a great lunch, and can even be served cold (trust me, it's really good) Serving this over a bed of lettuce leaves also makes for a delicious and very filling salad.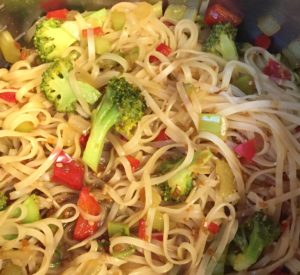 You can find the Teriyaki Sauce in most grocery stores, but it's also available on Amazon at a great price for the 3 pack! I use this as a marinade and a sauce for Teriyaki Chicken too, so I always have an extra bottle on hand!