Instant Pot Cheesecakes are divine! This is an amazingly delicious version where I have mixed Caramel and Pecans into the batter and then topped the Cheesecake with a Caramel Drizzle and more Chopped Pecans.
Here is a view from the top: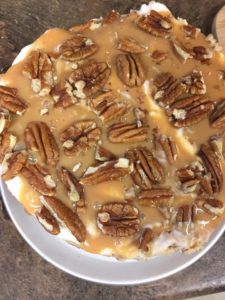 This 6″x3″ Cheesecake takes about 10-15 minutes to throw together, and bakes for 42 minutes on Manual High Pressure. This makes a super rich tasting Cheesecake and is plenty to serve 6-8 people. You could stretch it and serve up to 12 slices, or switch to a different shaped pan, like the square pan I will link at the end of this recipe. The square pans are also great for cheesecake bites, and you can stack two in the Instant Pot at the same time, which is wonderful when feeding a crowd.
For this Pecan Caramel Cheesecake You Will Need:
Graham Cracker Crust:
1 cup of Graham Cracker Crumbs (You can go Gluten Free by using Gluten Free Gingersnaps and just the Melted Butter in this step)
3 Tablespoons of Melted Butter
3 teaspoons of sugar
1 teaspoon of cinnamon (or a little more if desired)
Filling:
1 pound of Cream Cheese, OR sub for extra-thick Greek yogurt
2 teaspoons Vanilla Extract
Zest of 1 Lemon
1/4 cup Sugar, plus 3 tablespoons
up to 1/3 cup Heavy Cream, or Whole Milk adding a little at a time until desired thickness.
2 eggs and 2 yolks – add last and incorporate very gently. Over-mixing the eggs is a cheesecakes #1 reason for fail.
Filling Swirl:
1/4-1/2 cup Caramel (you can find my easy recipe for Caramel here.)
1/2 cup Chopped Pecans
Topping:
1 cup of Extra-Thick Greek Yogurt, Plain Yogurt, or Sour Cream
3 teaspoons Sugar or Caramel
1 teaspoon Vanilla Extract
More toppings:
-Pecans, and
-Caramel or Dulce De Leche- you can find my easy recipe for this here.
Directions:
Use a food processor to mix together the ingredients for the crust, and place into the pan, patting into place. you want the crust to come up about halfway up the side of the pan, so about 1.5″ high. Rinse out the food processor after you move the crust into the Cheesecake Pan. Place the Cheesecake Pan into the freezer.
Put the Cream Cheese in the food processor. Add the Vanilla, Citrus Peel, and Sugar and blend lightly, adding in part or all of the Cream (or Milk) until you have a smooth batter consistency, you want it to be slightly thick because you still have eggs to add. At this point, I take the  blade out of the food processor and use a rubber spatula to mix in the eggs and egg yolks. Once they are mostly incorporated, bring the pan out of the freezer and pour half of the batter in. Next the Caramel Pecan Swirl, and then the other half of the batter.
For the Swirl, you can use a bowl, but I use a Pint Mason Jar to stir together the caramel and pecans. Then pour into the cheesecake pan that has half of the batter already in, and make a design in the cheesecake that you can swirl around slightly with a knife or rubber spatula. Then add the second half of the cheesecake batter.
Once all of the batter is in, you can swirl it around more, or just prepare to cover the cheesecake. Cut a paper towel into a circle shape about 7″ around and place over the top of the cheesecake pan as a cover, and then cover that with aluminum foil. You will put 1.5 cups of water into the Instant Pot, place the trivet inside, and lower the cheesecake down on the trivet. It really helps to use a sling to get it in and out easily, and you can even make one by folding aluminum foil into a thick strip that's able to hold the weight of the cheesecake.
I set the Instant Pot to cook for at least 40 minutes, but I find that 42 works best for me. Make sure you do a full NPR, and then remove the cheesecake promptly to check for condensation.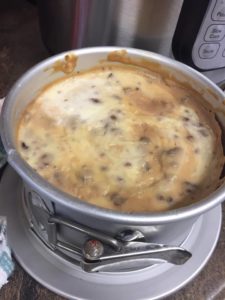 You will remove it from the Instant Pot, and take the foil and paper towel off. Check for any water on top of the cheesecake and gently blot it with a paper towel if there is any liquid. This is a photo after baking, before adding any toppings. I had stirred the swirl after adding the second half of the batter and it turned out AMAZING. You can re-cover and put back in fridge for at least 4 hours or overnight, or you can apply the first layer of topping now and then chill covered.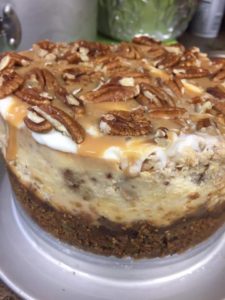 After chilling for 4 hours or resting overnight, it is ready to be topped with drizzle and served.
Drizzle more caramel and pecans on top of the sweet topping layer.
This cake can be kept in the freezer for a month, or in the fridge for between 5-10 days.
Cake Pans:
I use the Fat Daddio's Anodized Steel 6″x3″ Springform Cheesecake Pan

You can also use square pans for cheesecake bites. These are perfect..

This is the pressure cooker that I use