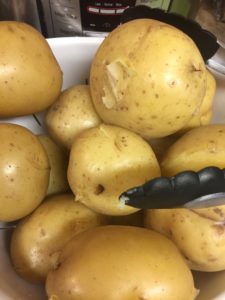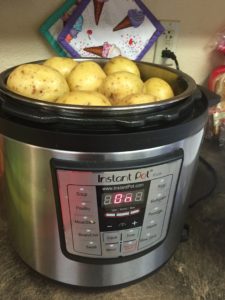 Yes, it's really true! I know I wouldn't be the first one to say that the Instant Pot is a magic pot, but there's no better way to put it. It's magic.
I like to use the medium sized Idaho Potatoes, and 5 lbs of these only cooked for 10 minutes! You can cook less in the same amount of time, but I love that I can cook 5 lbs at the same time because that allows me to have potatoes prepped for the entire week. Even if your potatoes are larger, you shouldn't have trouble fitting 5 lbs in the 6-Quart Instant Pot.
Having 5 lbs done at the beginning of the week allows me to be able to make scalloped potatoes, twice baked, or potato salad in probably less than half the time that it would normally take. I'm also able to make these better versions of potatoes on weekdays, because I don't need to spend hours (that I don't have) in the kitchen, so we get to eat twice baked potatoes and scalloped potatoes- even on our busiest days- which my kids love way better than the half cooked potato wedges that kept coming out of our oven. That was before Instant Pot. Now we have perfect potatoes! Here's how:
Start by putting 1.5 cups of water into the Instant Pot. You can use the trivet or go without if you choose.
Push the Manual button and depending on the size of your potatoes set the time somewhere between 7-15 minutes.
When the cook cycle is finished, I like to do a NPR to let the steam release naturally and to ensure that the potatoes are cooked all the way through. It usually takes about 10 minutes to do the NPR, so after that I just release any remaining steam. Done! Potatoes done in under 30 minutes from start to finish. Amazing.
For Mashed Potatoes, I cut each potato into 4 pieces and put them in the Instant Pot without a trivet. Next, add 1.5 cups of liquid (Broth or Water.) Cook on Manual High for 7 minutes, with 12 minute Natural Pressure Release. When they're finished, I bring out the inner liner onto the counter top, add in 1/4 cup of milk or cream, cheese, some butter, and some green onions. Stir with a fork until fluffy, and then stir in more cheese, green onion, and salt and pepper. My favorite is to use heavy whipping cream, medium cheddar, aged white cheddar, green onions, salt and pepper.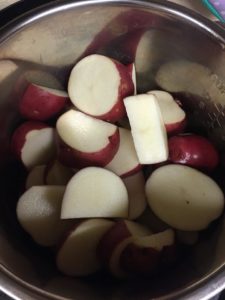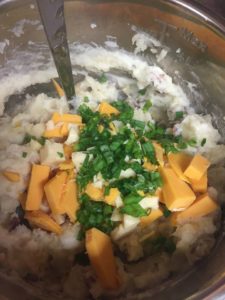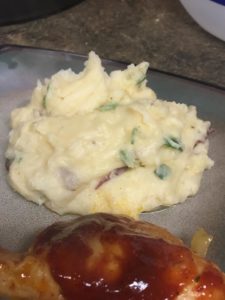 The scalloped potatoes take about 20 minutes to make once this recipe is done, and they are worth every minute!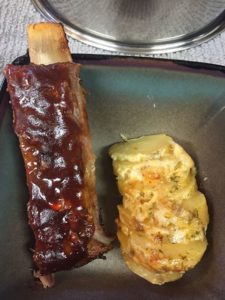 Here are some of the products I used for this recipe:
Dishwasher Safe Tongs:

Instant Pot Duo