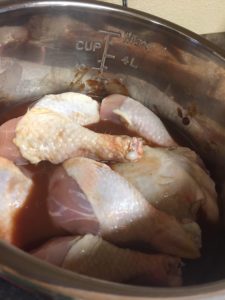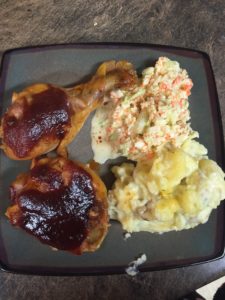 Chicken is SO good in the pressure cooker! I love how juicy and tender it is, but also that it's so easy to make great chicken! I have Bone-In Chicken Legs pictured above, but my favorite is Boneless Shredded BBQ Chicken, and I will include cook times and instructions for that as well.
I typically like to skip using a trivet when cooking meats because I like them to cook right in their flavorful juices, and it also helps keep it tender and juicy.
All you need is:
Chicken Legs, Thighs, or Breasts
1 cup of water
A jar of BBQ sauce or recipe below (1/2 for cooking, 1/4 for dipping, and 1/4 for brushing on if broiling afterwards.)
Seasonings for the chicken if desired.
Place the water and Chicken into the Instant Pot and pour about 1/2 of the jar of BBQ sauce over the top. You can easily Make Your Own BBQ Sauce using some brown sugar, ketchup, a dab of mustard, splash of A1, splash of Worcestershire sauce, and some spices like garlic, ginger and onion.
Set the Instant Pot to Manual for 15 Minutes, or Poultry for 15 Minutes. If your chicken is slightly frozen or you want it falling off the bone, or shredded, you should adjust by cooking longer. Another common cook time that I use for chicken is 22 minutes. When I have Boneless Chicken and just want shredded BBQ Chicken, 22 is the magic number in my Instant Pot.
If you're going for a quicker cook time, just make sure that your chicken is at least 165 degrees (75 Celsius) to ensure that it's cooked all the way. If you are roasting a whole chicken, please check my other recipe Lemon Pepper Rosemary Whole Chicken
Cover the Instant Pot and cook. I always do a Natural Pressure Release, this ensures that the meat is nice and tender. If you Quick Release while cooking any type of meat, it can shock the meat and cause it to toughen up, same happens if you don't let it rest after coming out of the oven before you slice it, and you'll also lose lots of the flavorful juices.
If doing bone-in BBQ style Chicken, when the timer beeps and Natural Pressure Release starts, I turn my oven on to broil. I highly recommend broiling it afterwards, the pictures will show you what a big difference it makes when doing it this way. Using tongs, set the chicken into a baking dish and pour some of the liquids into the pan (about 1-2 cups of juice)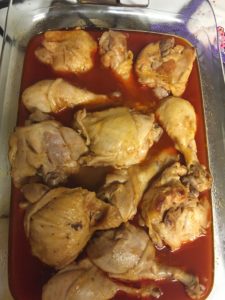 Pour or Brush BBQ sauce over the chicken and place in the oven to broil. I usually broil for about 10 minutes, you want the sauce to brown up and the chicken to crisp a little on the sides.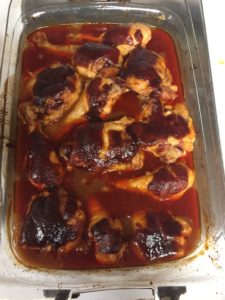 Look at the difference that broiling made! Totally worth the extra effort and by now all of the flavors will be melded nicely. Use tongs to move the chicken onto serving plates. Be careful when transferring them, my chicken was fall-off-the-bone tender, you can see in the next picture how tender it was.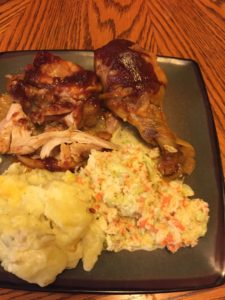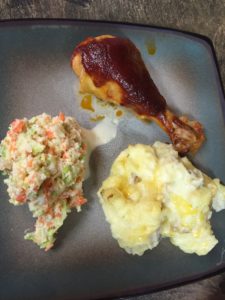 I served the BBQ chicken with some cheesy garlic mashed potatoes, and coleslaw. It was sooo good!