Here's a great idea for an easy dessert! Boxed Cake Mixes are super simple to make in the Instant Pot, and with a couple extra ingredients you can make a delicious Pineapple Upside Down Cake in the Instant Pot. Boxed cake is simple, but with the Instant Pot it is a total breeze, and the best part is that this makes enough for about three 6″ cakes so you can have a couple extras to stash away in the freezer, gift to friends and family, or you could even use round cake pans and make a triple layer cake! If you want to have a Gluten Free cake, any Gluten Free Cake Mix will work with this recipe too! I will add a link to my favorite cake mixes at the end of this post. I will also share the recipe for the super simple Icing Drizzle that I topped this with. You can make a regular cake by omitting the pineapple, following the directions for ingredients as the box says, and cooking as directed below.
For the Cake, You Will Need:
1 Can of Pineapple in Juice (not in syrup)
1 yellow cake mix (mine asked for 3 eggs, some oil and 1 cup of water, *Save the Pineapple juice and substitute that for the water)
Directions:
1. Spray the baking dish with nonstick baking spray. Put Pineapple chunks in a layer on the bottom of the baking dish.
2. Mix up cake batter per directions, remembering to use the Pineapple juice in place of the water. Pour the batter into the baking dish on top of the Pineapple pieces and cover with tin foil.
3. Pour 1 cup of water in the bottom of IP. Set trivet in place and lower the covered cake into the Instant Pot. Set to Manual High pressure for 25 minutes with NPR.
– This makes enough for 2-3 cakes and they can be done at the same time. I've used these 7″x2″ Cake Pans, and these 3-cup Bundt Pans and they can even be stacked on top of each other.
– I made a quick drizzle, but it wasn't even needed because it was delicious as is.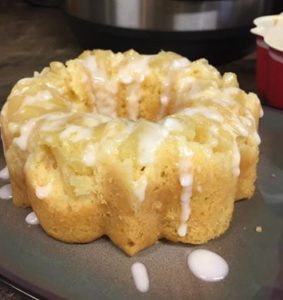 For the Icing Drizzle:
1 cup of Powdered (confectioner's) Sugar
1-4 teaspoons of milk. Use as little liquid as possible to ensure your it's nice and thick and doesn't soak into the cake. You could substitute the Milk for melted butter, Coconut Oil, Pineapple Juice, etc. This is also great with a twist of Lemon Juice in place of the Milk. This is so easy to stir that you can just use a fork and break up any sugar clumps.

If you are looking to purchase cake pans for your Instant Pot, Amazon has a great selection and the two posted below fit wonderfully in all sizes of Instant Pot and work great!
For the cake mix, I used a regular box of yellow cake mix, however these are some of my favorite flavors. This Vanilla Cake Mix is probably my all-time favorites!